Access Health and Community is still open but there may be changes to the services we offer.
Updated – 5 August 2021
Our doors may be closed but we're still open
We will need to ask you some screening questions before your appointment.
Your appointment may change to telehealth if it's possible to do so. We will call you if there are any changes to your appointment.
We will continue to provide essential health and community services, COVID-19 vaccinations and telehealth appointments during the lockdown.
If you're booked for an appointment over the next week, our team will be in touch with further information.
Thank you for your cooperation and understanding to help keep our community safe.
Click here to find out about booking your COVID-19 vaccination appointment at Access Health and Community. 
To keep both our clients and staff safe, we follow COVID-safe guidelines. We will contact you if we need to change your appointment to telehealth.
You will find more information in the below links, and you are always welcome to contact us on 03 9810 3000.
To find out more visit:
It is important not to forget your general health and well-being. If you need to make an appointment with our team of health professionals, you can book a doctor's appointment online or call 9810 3000 and arrange appointments with our other services.
If you are using our services in person, you may need to wear a mask. If you don't have access to masks AccessHC can provide them to you.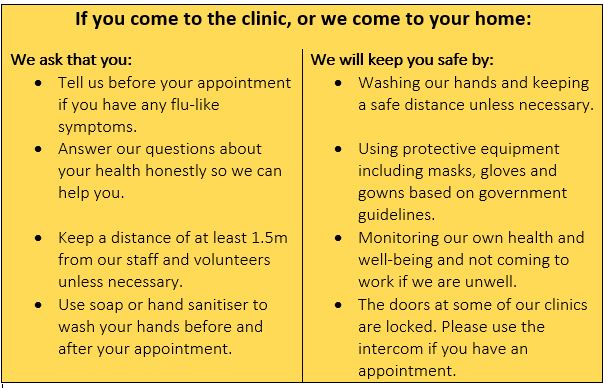 If you have flu-like symptoms, even minor symptoms, our doctors can arrange a COVID-19 test for you. You can book a doctor's appointment online or call 9810 3000. For other questions about COVID-19 please call the 24hr hotline 1800 675 398.
For all your other health and community services we are here to support you, your family and your neighbours as we all fight the pandemic together.