Access Health and Community is still open but there are changes to the services we offer.
During the stage three restrictions announced recently (currently ending Sunday, September 13), most of our locations will remain open and some will offer online programs only. 
We are continuing to provide services face-to-face in our clinics, in people's homes and via telehealth or telephone. 
Find out more information on current restrictions.
To find out more visit:
During the lockdown it is important that you keep looking after your general health and well-being. If you need to make an appointment with our team of health professionals, you can book a doctor's appointment online or call 9810 3000 and arrange appointments with our other services.
If you do need to use our services, in person, you will need to wear a mask. Find out more about the mandatory wearing of masks.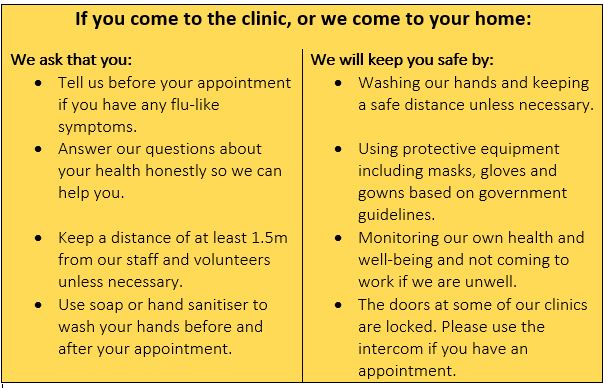 Please stay home during the COVID-19 pandemic as much as you can.
If you have flu-like symptoms, even minor symptoms, our doctors can arrange a COVID-19 test for you. You can book a doctor's appointment online or call 9810 3000. For other questions about COVID-19 please call the 24hr hotline 1800 675 398.
For all your other health and community services – we are here to support you, your family and your neighbours as we all fight the pandemic together.