AccessHC can provide you with an appointment by a GP and some other health professionals via telehealth
Call us on 03 9810 3000 to book your doctor appointment or click the doctor online booking links below to book a telehealth appointment online.
Non-medical appointments
For all other non-medial appointments please call our Intake team on 03 9810 3000. You can also visit one of our locations and speak to the reception staff.
Hawthorn Doctor Online Bookings, 378 Burwood Road, Hawthorn VIC 3122, phone: 03 9810 3000, Fax: 03 9818 6714
Richmond Doctor Online Bookings , 283 Church Street, Richmond VIC 3121, Phone: 03 9810 3000 , Fax: 03 9425 9551
headspace Hawthorn Online Doctor Bookings, Hawthorn Town, Hall Level 1, 360 Burwood Rd, Hawthorn, VIC 3122. Phone: 03 9006 6500 to make an appointment.
________________________________________________________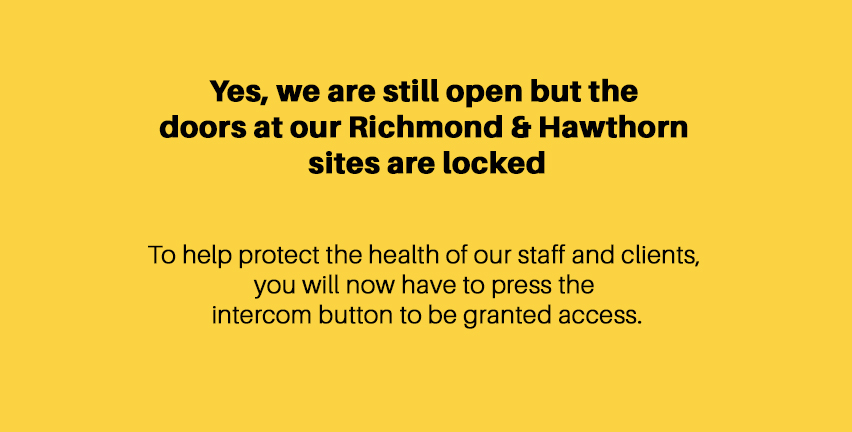 ________________________________________________________
How much is a telehealth appointment?
Any patient who has a Medicare card and who is at risk of COVID-19 infection is eligible for a Medicare funded telephone or video appointment.
All eligible Medicare telephone/video appointments will be bulk billed which means there will be no 'out of pocket' expense to you. This also includes:
patients with concession cards or aged under 16
all patients under treatment for a chronic health condition
anyone with an immune deficiency (when your body is less able to fight off infections)
pregnant mothers
anyone aged 70 and over
parents of children under 12 months
Indigenous Australian patients aged 50 and over
If you have a Medicare card but don't meet the above criteria then the cost is $71.20 (you pay the full amount and medicare pays you back $38.20)
If you don't have a Medicare card, we will need a $40 upfront payment as no Medicare rebate applies.
Please talk to your doctor if you cannot pay your fees. They will bulk bill where possible.
Doctor appointments
Our standard appointments are 15 minutes. If you want a longer or special appointment call the centre for a booking.
If you need to cancel an appointment please call us on 03 9810 3000 to make the cancellation.
If you do not cancel and cannot attend, we may need to charge you a cancellation fee.
To book all other services appointment please call the location where the service is offered. If you're not sure call 03 9810 3000.