Asian slaw and sweet chilli tuna
Make this quick and easy to prepare crunchy salad – perfect for the warm weather!
Recipe adapted from LiveLighter.  General healthy eating advice only.
For individual, expert nutrition or recipe advice, book an appointment with a dietitian at Access Health and Community. Call (03) 9810 3000 or visit www.accesshc.org.au
Asian slaw and sweet chilli tuna
Preparation time: 10 minutes
Cooking time: 3 minutes for cooking rice
Serves 2
Ingredients
1 cup cabbage, finely shredded
1 medium carrot, grated
1 stalk celery, thinly sliced
6 snow peas, thinly sliced
1 apple, thinly sliced
½ cup brown rice, cooked and cooled
2 x 90g cans of tuna in sweet chilli sauce
Method
To cook the rice:
Place uncooked rice in a microwave safe container.
Add 1 cup of water to the rice.
Cover the container with a microwave safe lid.
Microwave the rice at full power for 3 minutes.
Let the rice cool.
To make the salad:
Mix together vegetables, apple and rice.
Stir through tuna just before serving.
Tips
Slice apple last to keep it fresh, or squeeze lemon juice on top to stop it from turning brown after slicing.
Experiment with different vegetables such as lettuce, baby spinach, capsicum or cucumber to mix up the flavours and textures and use up what you may have in your fridge.
For a vegetarian option, swap tuna with 4-bean mix.
For extra convenience or if you find vegetable preparation difficult, pre-shredded coleslaw packs are available at the supermarket in the fruit and vegetable section.
Spring seasonal vegetables used in the recipe: snow peas, carrot, zucchini.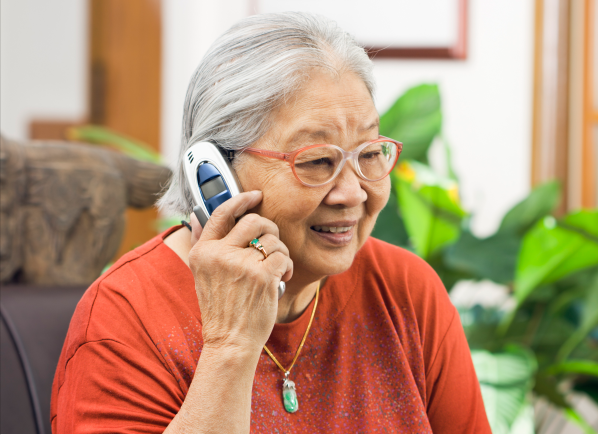 Make a booking
It's quick and easy to book online or you can call our friendly intake team on
03 9810 3000. We are here to help.