Nutritionist vs. Dietitian: What's the difference?
If you want to manage your weight and eat more healthily, it can be hard to work out where to start. Should you go keto? Fast until lunch? Not eat bananas for breakfast?
Phew! Thanks to social media and the internet, there's so much conflicting nutrition and diet information out there. And some of it is dangerous.
It can be hard to work out what–and who–to believe.
Getting professional nutrition advice is a good first step. It can be beneficial to your health and wellbeing.
But, Nutritionist or Dietitian? – How do you know which is right for you?
What is a Nutritionist?
A nutritionist advises people of all ages about personal health, diet and wellbeing. They can help you to improve your health and wellbeing. Nutritionist's design, coordinate and check dietary plans.
A nutritionist can also help you:
Calculate nutritional value of food and drink
Adjust your dietary plans and help you design meal plans
Understand the role of nutrition in your life and how eating food can affect you.
It's important to note that the term "Nutritionist" isn't regulated. This means any person could call themselves a Nutritionist. Some Nutritionists undertake tertiary studies and complete a Bachelor degree. But others don't. Nutritionists may nor may not be a qualified Dietitian.
What is a Dietitian?
Dietitian's support and counsel people with a range of medical and health conditions.
These can include:
Diabetes
Heart disease
Eating disorders, and
Gut issues like Coeliac disease, Colitis or Crohn's disease.
Dietitians are qualified nutritionists which means they can do everything a nutritionist can do, plus they must complete a specific science-based university course. This can be a Bachelor degree plus a Masters of Dietetics. They also need to complete up to 1 year of supervised work at a healthcare facility or similar.
Dietitians deliver a vast range of nutrition services. Like nutritionists, they work in public and community health settings and policy and research. Dietitians at Access Health & Community support people of all ages to have a happy healthy relationship with food and their bodies.
Only someone with a Dietetics qualification can deliver medical nutrition therapy (MNT). This evidence based type of nutrition therapy delivers personalised nutrition plans. MNT has a focus on chronic diseases like Type 2 Diabetes and Chronic Kidney Disease (CKD).
Dietitians must keep up to date with their knowledge after obtaining their degree – from reading publications and journals to attending conferences. This professional development ensures Dietitians are up to date with the latest research.
The highest level of professional Dietitian training Accredited Practising Dietitian (APD). This program has strict criteria that Dietitians need to abide by. Bodies including Medicare and the Department of Veterans' Affairs recognise it.
Is a Dietitian or Nutritionist Right For You?
Confused about whether you should see a Dietitian or a Nutritionist? Apart from asking your trusted GP, a simple way to work out who to see is to remember the following.
Dietitians promote nutritional wellbeing and treat medical conditions through medical nutrition therapy. They also work with people who have chronic diseases. Dietitians can suggest which dietary changes will benefit them. If you have Type 2 diabetes, high cholesterol or are obese, a Dietitian can help. They can design a personalised meal plan that will help you manage your condition better.
Nutritionists focus on promoting balanced lifestyles and healthy eating habits. They usually don't consult with people who have chronic diseases. You should see a nutritionist if:
You want to improve your nutrition,
Develop better eating plans, and
Make better choices about to eat.
Nutritionists generally work with people who want to improve their nutrition, develop better eating plans and make better choices about what they eat.
The major differences between Dietitians and Nutritionists are their knowledge and accreditation. Dietitians and Practicing Accredited Dietitians must keep up to date with their knowledge. Some people study a Nutrition course to supplement other qualifications. But that doesn't make them a Dietitian.
We suggest you check a person's qualifications to make sure they can help with your concerns.
Reach out to us if you need help
AccessHC's dietetics team is made up of dietitians (who are also nutritionists!) who can help you unravel the mysteries of what to eat and how to enjoy it. 
Whether you have a health condition to manage, specific nutrition questions, want to feel healthier, or want to have a more positive relationship with food – we can help.
"Our Dietitians and Nutritionists will give you education and tools to improve your health now and into the future. We are not the "food police" and we work together with you using science and models of behaviour change." says AccessHC Dietitian Simone Mastronardo
Dietitian and Nutritionist FAQs
How much does a Nutrition/Dietetics appointment cost?
Access Health & Community offers these services for every member of the community. We base the costs of our Nutrition and Dietitian services on income ranges set by Centrelink. View our current income tables.
Do I need a referral to see a Dietitian?
You don't need a referral if you're under 65 years of age. Access Health & Community Dietitians accepts GP care plans. This means you can receive a Medicare rebate if your GP has completed team care arrangements. If you're over 65 you can contact My Aged Care which will provide you with any information you might need regarding Australian Government-funded aged care services in addition to help identifying the right type of care. You can apply online. Need help applying? Call us (03) 9810 3000.
Will I have to be on a restrictive diet?
We do not prescribe restrictive diet plans or use a one size fits all approach. Instead, we:
Take the time to create tailored nutrition advice
Support you to work with your natural body cues
Teach you about mindful eating, and
Discuss how to look after any health conditions or concerns.
What happens at the first appointment?
Your Dietitian will get to know you by asking questions about:
Your health background, including any medical conditions
Exercise habits
Food and eating habits
Lifestyle including living situation, cooking arrangements and work/study arrangements
This information helps your Dietitian to discuss ways to improve your eating habits and relationship with food and your body.
AccessHC Dietitians and Nutritionists are friendly and non-judgmental. Whatever your concern, we're happy to help! Book an appointment today.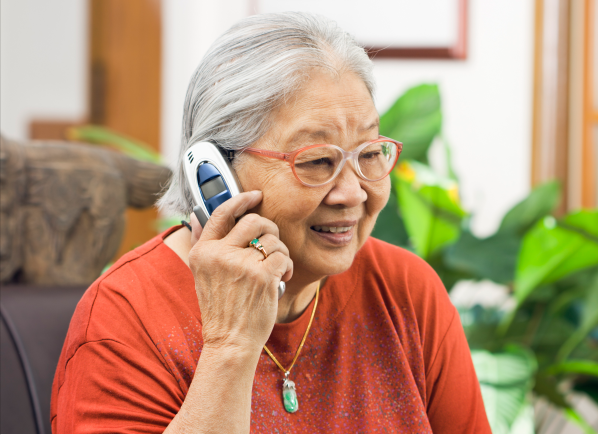 Make a booking
It's quick and easy to book online or you can call our friendly intake team on
03 9810 3000. We are here to help.