Speech Pathology for Adults
Our speech pathologists are here to support you and your family with communication and swallowing difficulties.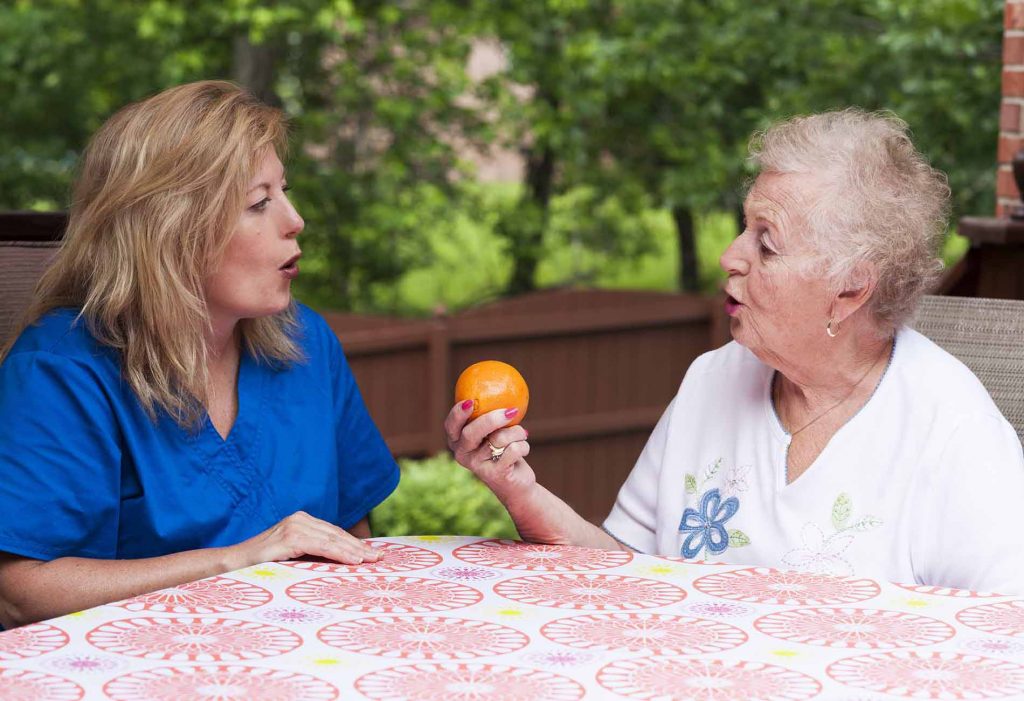 Our Speech Pathology Service
Speech pathologists work with people who have communication, swallowing or cognitive difficulties. Communication involves speaking, listening, hearing, understanding, reading, writing, thinking, using your voice and social skills. 
We provide services to adults aged 18 years and above across a range of areas. We support people with communication and swallowing problems resulting from a wide range of health conditions and disability including: 
Neurological conditions such as Parkinson's or dementia.

 

Accidents or trauma to the brain

 

Stroke

 

Head and neck cancer and surgery

 

Respiratory issues

 

A range of other illnesses or conditions impacting communication or swallowing

 

Complex care

 

Palliative care

 
Some clients will access our service following a hospital or rehabilitation stay, via a referral from their GP or other specialist, or directly from the community.  
Our speech pathologists will work with you, your family and your health team to achieve your health goals, assess your specific problem and devise a treatment plan that best suits your needs. 
Our speech pathology services may include assessment, individual or group therapy, counselling and provision of education to clients and their family. 
Our Speech Pathologists can assess and treat a range of difficulties including:
Coughing and/or choking when eating and drinking, or difficulty with chewing and swallowing food or drink
Saliva management
Memory difficulties or other changes to thinking and/or processing skills
Understanding spoken speech and/or finding the right words to say
Slurred or unclear speech
Muscle weakness in the face or mouth
Facial palsy
Social skills
Voice changes due to degenerative diseases
Specific speech and voice treatments for Parkinson's Disease (eg. LSVT LOUD and

SPEAK OUT! 

program

) 

Cognitive communication impairments
Our speech pathologists can also support you with identification and use of assistive communication technology (such as communication books, tablets or other low or high-tech communication devices).
What will my speech pathology appointment/s involve?
At your first appointment, you will discuss your swallowing and/or communication concerns and identify your treatment goals. Appointments may involve: 
An interview with your speech pathologist, to better understand your communication or swallowing difficulties.

 

An assessment of your swallowing (eating and drinking) function, by observing you during a mealtime or through interview. 

 

An assessment of your communication skills, through the use of communication tests or through discussion with you. 

 
Following the assessment your speech pathologist will: 
Provide a likely diagnosis of your communication and/or swallowing problem. 

 

Provide recommendations for treatment and management that is tailored to your goals. 

 

May discuss referrals to specialists or other services, if required.

 

May recommend involving an Allied Health Assistant in your treatment to support you to achieve your goals.

 
How to make an appointment with a Speech Pathologist
Our speech pathologists provide services individually and in groups, via telehealth or face-to-face appointments for clients in their home or residential facility. We also offer clinic-based appointments at the following locations: 
Please contact our intake team on  03 9810 3000  or email  intake@accesshc.org.au to make an appointment. When making a referral to our service, please provide:
details about your swallowing, communication or cognitive difficulty
a medical diagnosis (if known)
relevant reports, including any speech pathology  reports if available or known.
A referral may be made by a therapist of another discipline who you are already seeing. 
Our intake team will schedule an appointment with the speech pathologist for you. The speech pathologist will then schedule further appointments with you depending on your requirements and service availability.
Fees and Payments
We offer services for all members of the community. Some of our services prioritise access to people and families with greater health, economic and social needs. We set the costs of our services based on income ranges. These income ranges are based on the Centrelink Income Test for pensioners. See our current income tables. 
If you are registered with NDIS or have a Home Care Package, your speech pathology costs should be covered by your NDIS Plan or Home Care Package. 
If you want to talk to someone about fees, please call 03 9810 3000. We are here to help find the best solution for you.