Occupational Therapy for Adults
Our occupational therapists provide a service for people who are having difficulties with their daily activities.
The team assists people who may need help due to a disability, health problems or the effects of ageing.
Our occupational therapists work to improve safety, access and independence.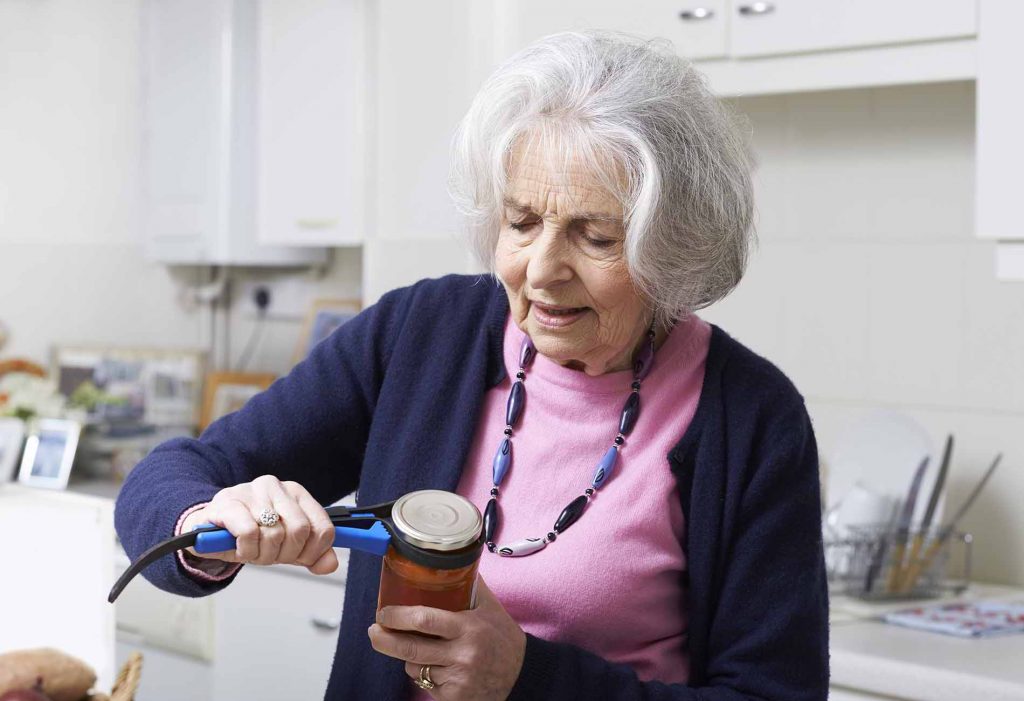 Our Occupational Therapy Team
We know that everyone manages in different ways, so we believe in a flexible approach when working with you and your needs. Our large team has experience across many areas and understands the journey many clients take to get to where they are. We work hard to ensure we are always learning and building our knowledge and skills in new approaches and to find ways to support you.
Our team is made up of experienced practitioners who have backgrounds in:
Aged care
Complex disability
Dementia
Progressive neurology such as Parkinson's Disease, Multiple Sclerosis and Motor Neurone Disease
Acquired brain injury and Stroke
Palliative care
Carer support.
Our occupational therapy service can support you with the following:
Advice and education about aids and equipment, including wheelchairs and hoists.
Education and training if you are new to using a scooter or powered wheelchair, as well as follow up training at a later date if your needs change.
Education and techniques to manage fatigue.
Education for carers on safe lifting and transferring techniques.
Support with training in activities of daily living like meal preparation, shopping and money handling to support independence.
Falls prevention advice.
Home safety assessment to provide recommendations for minor and major home modifications.
Support to apply for funding.
Advice and information about community access, resources, supports and groups.
How to make an appointment
Please contact our intake team on 03 9810 3000 or email intake@accesshc.org.au.
Our intake team will talk you through the booking of an appointment.
We offer the convenience of both telehealth appointments and face-to-face appointments in your home. Where indicated we can also offer appointments at one of our main clinic sites including:
Fees and Payments
We offer services for all members of the community. Some of our services prioritise access to people and families with greater health, economic and social needs. We set the costs of our services based on income ranges. These income ranges are based on the Centrelink Income Test for pensioners. See our current income tables.
If you are registered with NDIS or have a Home Care Package, your occupational therapy costs should be covered by your NDIS Plan or Home Care Package.
If you want to talk to someone about fees, please call 03 9810 3000. We are here to help find the best solution for you.
FAQs
Where will the occupational therapist see me?
Telehealth is a very useful and convenient appointment option available to most clients. Our intake workers can discuss this service with you and see if it would be appropriate for you.
We continue to offer face-to-face appointments with you in your home or the community.
Our occupational therapists can also be seen at one of our sites for specialist assessments and interventions. This is most often needed if you are attending one of our wheelchair clinics.
Our occupational therapists are also involved in group programs that are run at our sites or with other community based agencies.
How can you help me get the equipment or modifications I need?
Your occupational therapist will assess your needs and make recommendations for equipment that will assist you.
Funding for equipment or modifications can be made through funding schemes such as the State Wide Equipment Program (SWEP), through NDIS and other agencies.
Your occupational therapist will advise as to what funding support you are eligible for and will apply on your behalf.
How does the occupational therapist work with the council?
Clients can be referred to an occupational therapist from the Regional Assessment Service that is based at the council.
Occupational therapists also work with the council Home Modification team to request changes to your home. This may include the installation of rails, shower hoses or ramps to ensure safety within your home.
How can an occupational therapist support my carers?
An occupational therapist can provide assistance to your carers through education and advice regarding the use of equipment, manual handling and other practical education.
An occupational therapist may also refer you and your carer to other support services to assist with your management at home and within your community.
You or your carer may find the video "Caring for Carers" in our links a useful resource. Click on the link to watch this video.
When will I be able to see an occupational therapist?
Once your referral is received by our intake service you'll be seen as soon as an occupational therapist is available. This is usually within four weeks, although at times our waitlist will be longer if we have a large number of referrals.